On the afternoon of October 29, Consul General Chua Teng Hoe and Consul Danielle Koh of Consulate General of Singapore in Shanghai visited SUFE and met with Xu Tao,Chair of the University Council.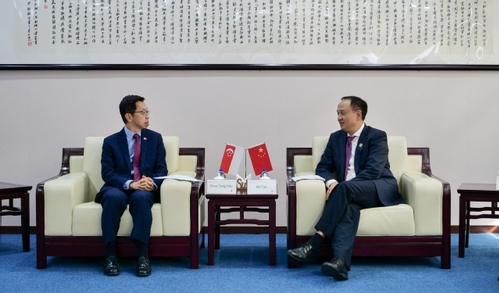 Xu Tao expressed his gratitude to Consul General Chua Teng Hoe for his support to the international cooperative teaching in SUFE. On behalf of SUFE, he extended a warm welcome to the delegation. He briefly introduced the history, characteristics, strategic planning and internationalization development of Shanghai University of Finance and economics, and reviewed the high-level, diversified, active and in-depth cooperation and exchange between SUFE and the Singaporean universities.He affirmed the unique experience, achievements and reference significance of Singapore's world-class university construction, and expressed his vision and hope to actively promote the cooperation between bilateral universities in future.
Consul General Chua Teng Hoe expressed gratitude to Shanghai University of Finance and Economics for its efforts in cultural exchanges between China and Singapore. He said that the friendly relations between China and Singapore had a long history. This year marks the 30th anniversary of the formal establishment of diplomatic relations between Singapore and China. The two countries have frequent exchanges in the fields of economy, trade, education, culture and so on. Colleges and universities of the two countries played an important role in exchanges. Singapore had always attached great importance to cooperation and exchanges with Chinese universities and actively encouraged Singaporean students to visit and study in China. He said that although affected by the pandemic, offline activities are limited now, he hopes to continue to actively build a bridge of cooperation between Chinese and Singaporean universities through the platforms such as the Alumni Associations of Singaporean universities in Shanghai, so that more Singaporean students can come to China for study and exchange in the future.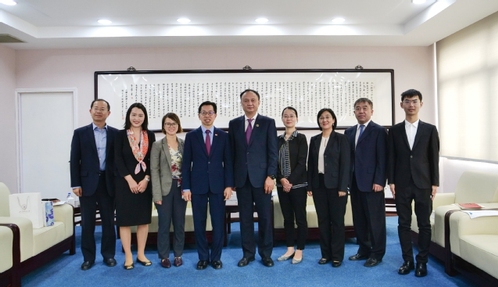 Subsequently, the two sides further discussed and exchanged views on deepening cooperation. Xu Tao said that there was a great potential in mutual beneficial cooperation in talent cultivation and the think tanks between the two countries. The cross-cultural exchange of talents between the two countries will become a bridge to enhance bilateral friendship and cooperation. SUFE welcomes Singaporean scholars to visit the University, and he hopes that Consulate-General Chua Teng Hoe can provide more support for the cooperation between SUFE and Singaporean universities. Chua suggested that in the future, bilateral university cooperations should provide more internship opportunities for students, so that Singaporean students can enter high-end enterprises in Shanghai, experience China's development, understand Chinese culture, and learn advanced industry knowledge and experience.
Li Hong, Director of the International Exchange and Cooperation Office, Zhang Xueliang, Executive Director of the Yangtze River Delta and Yangtze River Economic Belt Development Research Institute, Wang Feng, Vice Dean of the School of Public Economics and Management, Deng Xin, Assistant to the Dean of the School of Finance, Zhou Bo Assistant to the Dean of the School of Accountancy presented at the meeting.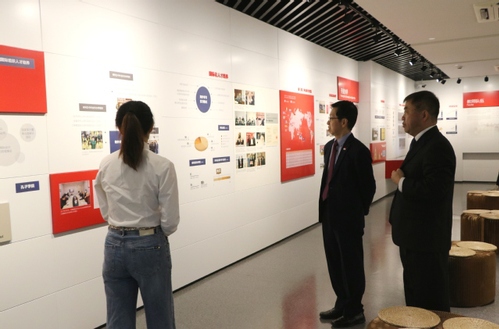 After the meeting, Consul General Chua Teng Hoe and the delegation visited the SUFE Business Museum.
SUFE has always maintained close and pragmatic cooperation with National University of Singapore and Singapore Management University, and signed various cooperation agreements such as student exchange, joint training of master and doctoral students, teacher exchange, etc, Meanwhile SUFE and the Consulate General of Singapore in Shanghai have always maintained friendly relations and interaction.