On November 29th, Li Jiangang, academician from the Chinese Academy of Engineering, was invited to Lectures on Science and Humanities at SUFE, where he lectured students and teachers on Magnetic confinement fusion ‒ the ideal strategic energy for the future of mankind. The lecture was held in the lecture hall on the second floor of the School of International Business Administration (SIBA) . Prior to the lecture, Vice President Huang Ying engaged in a lively exchange with Li, accompanied by leaders of the School of International Business Administration, Zheng Chunxuan, Wei Hang, Xue Liang, and Deputy Director of the Department of Student Affairs, Zhang Qin. The lecture attracted over two hundred enthusiastic students and teachers.
The lecture was hosted by Zheng Chunxuan, Secretary of SIBA Party Branch. She introduced Li Jiangang's personal experience and research results to the teachers and students present, and exhorted students to actively improve scientific and humanity qualities while expanding their professional skills.
Through an opening video, Mr.Li helped students understand the current status of the world's energy resources and the utilization of nuclear fusion energy, which aroused keen interest from students. After introducing the features of magnetic confinement fusion energy, he impressed the students as he explained the unremitting efforts made by scientists, the result of which is widely known as the artificial sun.
Afterwards, Mr.Li gave a brief description into three ways to use nuclear fusion energy. He also elaborated on the various challenges and difficulties currently faced, stating there is a long way to go to truly making use of nuclear fusion. The significant impact the ITER international cooperation program has on China's national strength and industrial development was also analyzed.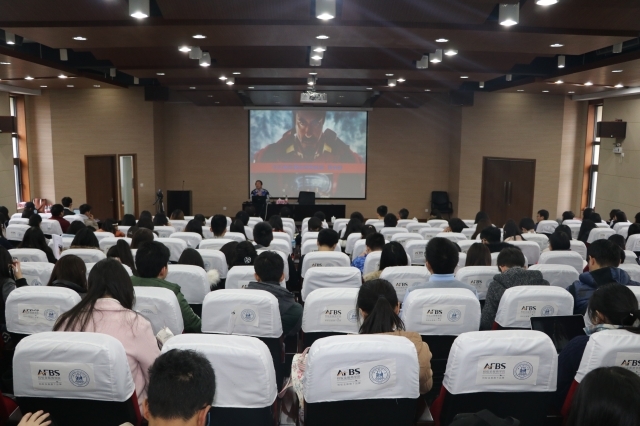 At last, Mr. Li demonstrated the future plan for the development of nuclear fusion in China, expressing great confidence in it. He quoted I have a dream to conclude, and conveyed a strong hope for the prosperity of Chinese science and technology.
Translated by: Tang Zheying
Edited by: Zhang Boxin
Source: SUFE News