On the afternoon of October 29th, Jari Kuusisto, President of the University of Vaasa in Finland, led a delegation to visit SUFE. President Jiang Chuanhai met with the delegation.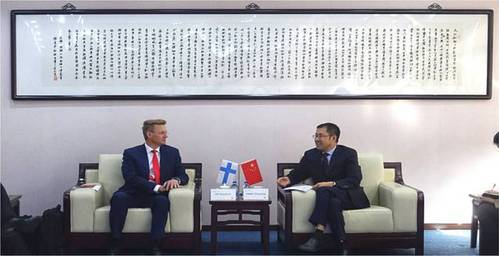 President Jiang Chuanhai warmly welcomed President Jari Kuusisto and his delegation. He outlined the size, disciplines, the number of students, the international development strategy of SUFE, as well as its commendable performance on lists such as ESI, QS, and US News. He also emphasized the efforts of SUFE in introducing overseas teachers and establishing high-level cooperative relations. He hoped that the two universities will strengthen cooperation in economic and management disciplines, teacher cooperation research and international forums.
President Jari Kuusisto said that he was very honored to visit Shanghai University of Finance and Economics. He detailed the adjustments made by the University of Vaasa to adapt to changes in Finnish society, such as constructing new campuses, organizing new events, and building a research platform dealing with climate change and business challenges. He also introduced the university's efforts in digital certification, globalization, and quality improvement, as well as the cooperation between schools and related companies in the fields of environment, energy and economic sustainable development.
Later, the two sides conducted in-depth discussions on how to better assume the responsibility of serving society and the university's global mission. University of Vaasa introduced its research advantages in the field of sustainable clean energy and smart cities. SUFE also proposed to establish a cooperation platform in business and other disciplines, so as to give full play to the cooperation potential of the two universities in energy economics research.
The Delegation of the University of Vaasa also included: Jorma Larimo, Associate Dean of the Department of Marketing; Anne Alqhvist, Commissioner for International Affairs; Ahmed Hamad, Head of Admissions and Mobility Services; and Yu Hong, Deputy Director of the Office of International Exchange and Cooperation.
The University of Vaasa is located in Vassa, the western coastal city of Finland. It was founded in 1966. It was formerly known as the Vaasa School of Economics and Business Administration. In 1991, it officially changed its name to the University of Vaasa. The school is known for business, economics and sociology. The school consists of the School of Accounting and Finance, the School of Management, the School of Marketing and Communication, and the School of Technology and Innovations. There are 5,251 students and 468 faculty members. Its business school is at the forefront of Finland. SUFE established a partnership with Vassar University in 2001 and they have carried out student exchange programs since then. In recent years, the University of Vaasa has made positive reforms and innovations in response to globalization, and has better prospects for cooperation with SUFE in many fields.
Translated by Huang Jiaqi
Proofread by Dominic Graham
( From Office of International Exchange and Cooperation)