On June 27th and 28th, Shanghai University of Finance and Economics held its 2015 Graduation and Degree Awarding Ceremony in the Grand Stadium on Guoding Campus. SUFE leaders Cong Shuhai, Fan Liming, Liu Yongzhang and Liu Lanjuan attended the ceremony along with the leaders of the schools and administrative departments.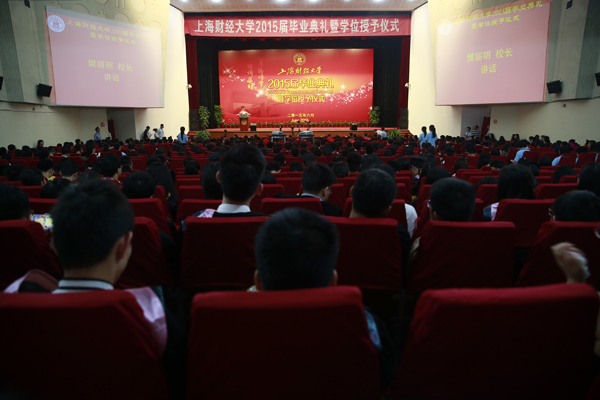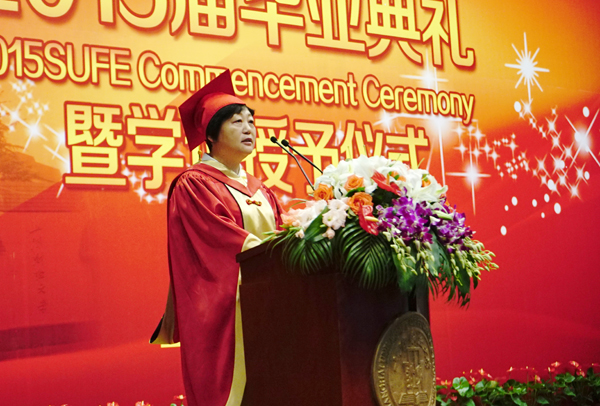 During the commencement, President Fan Liming congratulated the graduates on the completion of their study. She delivered a speech that emphasized the importance of innovation by sharing the inspiring stories of Sun Churen, a SUFE Ph.D student who won the 6th Huang Da-Mundell Economic Award, and SUFE alumnus Zhang Yong, CEO of the Alibaba Group. President Fan expressed her sincere wishes to the graduates that they would use their courage, confidence and innovation to write the next magnificent chapter in their life by means of fortitude, endeavor, patience and team spirit.


In the second section, teacher representatives Ge Dongdong, Huang Rong and Ge Weijun delivered their speeches to the students.


Ge Dongdong encouraged students to keep on learning and practise self-cultivation after graduation. He also expected students to keep their spirits high and take responsibility for themselves. Moreover, he emphasized that students should never forget SUFE as the place where their glory and dreams started.

Huang Rong suggested that graduates should find a harbor for their soul, whether it be in music, literature, art or sport. Such a harbor, she said, can provide energy and happiness, helping graduates breathe fresh air no matter whether the course of their life is beset with obstacles or filled with joy .

Ge Weijun encouraged graduates to keep an optimistic attitude and be patient, because patience is an essential part of success. He said that graduates should find a goal and strive to realize it. In addition, he asked that they be pleasant and friendly and learn to share their knowledge, interests, joy and humor with others.

Graduate representatives also delivered speeches in which they shared experiences of their lives in SUFE, extended their gratitude to their parents and teachers, and looked forward to stepping into a new chapter of their lives.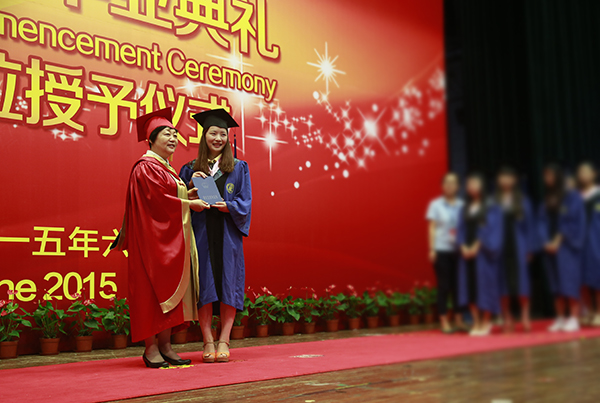 Later on, President Fan granted graduation certificates to 3543 students and had photos taken with them one by one.