On the afternoon of December 15th, President Fan Liming held a working meeting with Mr. K. V. Kamath, President of the New Development Bank of BRICS (Hereafter NDB) at the headquarters of NDB in the Pudong District.
The meeting is the first meeting between the two sides. In her talk, President Fan expressed gratitude to Mr. Kamath for his attention to the education of SUFE. She introduced the development of the university from personnel training, scientific research and internationalization. She also pointed out that cooperation between universities and banks has broad application: teaching and scientific research can provide services and intellectual support for the development of banks; in return, banks can provide high-level chances of teaching practice and internships for teachers and students specialized in finance and further they can become long-term and stable practice bases. She added that SUFE was willing to establish a cooperative relationship with the NDB through joint research, training and setting up NDB Collection. She also emphasizes the advantages to both sides and that cooperation can be mutually beneficial.


Mr. Kamath extended a warm welcome to President Fan. He introduced the status and development prospects of NDB. He agreed with President Fan's proposal, and said that he was willing to support and promote the cooperation between NDB and SUFE in personnel training, information sharing, and joint research cooperation. The three Vice Presidents of the NDB: Mr. Vladimir Kazbekov, Mr. Zhu Xian and Mr. Manish Singh introduced their areas of responsibilities. They also expressed their support for scientific research, teaching, training and practice, and their suggestions for cooperation between the two sides.

Subsequently, Vice President Yao Lingzhen introduced the employment status of SUFE students. After in-depth discussion, the two sides agreed that the meeting was a good beginning of cooperation, and they are all willing to sign a cooperation agreement to promote the implementation of cooperation projects.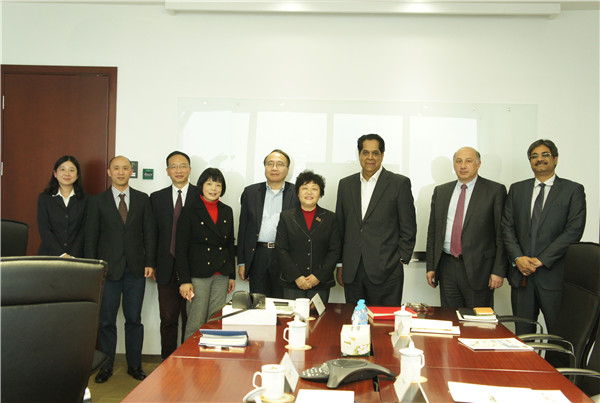 Xu Longbing, Director of Office of Scientific Research, Li Hong, Director of Office of International Exchange and Cooperation and Li Jinsong, Vice Dean of the Graduate School also attended the meeting.