On the afternoon of Oct. 24th, David Wilkinson, Deputy Vice-Chancellor of Macquarie University (MQU), led a delegation to visit SUFE. The delegation was received by Jiang Chuanhai, President of SUFE.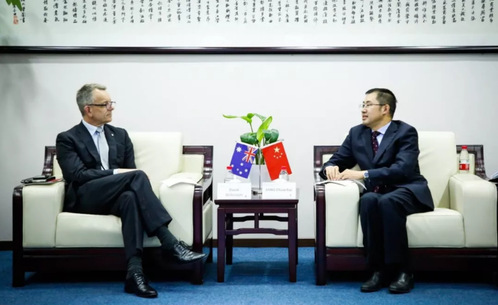 Jiang extended a warm welcome to the delegation and briefly introduced SUFE: its size, disciplines and features, as well as its nice performance on the ESI and QS lists. He also showed great expectation of further cooperation between MQU and SUFE in terms of student exchange, scientific research cooperation and communication, holding advanced academic forums, and so on. After showing gratitude for SUFE's warm welcome, Mr. Wilkinson introduced the Business School of MQU, highlighting its basic information, preponderant discipline projects and its experience in curriculum development and cooperation. He hoped both parties could improve the cooperative relationship and take an active role in helping development and collaboration in the China-Australia Academic Exchange on Finance Development next month.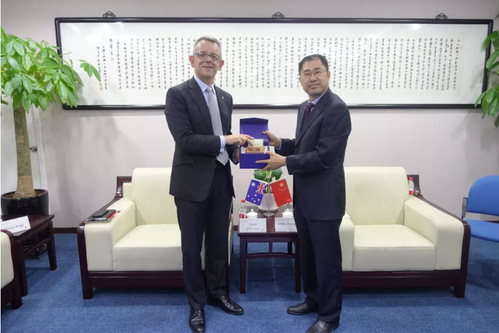 Next, both parties discussed the possibility of cooperating in a Diploma Education project in the College of Business, and how to further utilize the China Public Finance Research Institute to strengthen communication and cooperation in constructing think tanks, as well as fostering student, and research works. The hope of both parties was that this new project would strengthen the cooperation between them.
Attendees also included Liu Xiaochuan, Executive China Public Finance Research Institute; Wang Feng, Deputy Dean of the School of Public Economics and Administration; and Yu Hong, Deputy Director of the International Exchange and Cooperation Office.
Macquarie University is located in Sydney, Australia. It is a QS 5-star university, ranked 12 in the 2019 QS Australia ranking and 250 in the 2019 QS World University Rankings. Its Accounting and Finance discipline ranked between 51 to 100; Business Administration ranked between 151 to 200; Law ranked 101 to 150; and Linguistics, also ranked 101 to 150. It won the second place among the Australian universities in the 2019 MBA World Rankings by the Financial Times. Meanwhile, it was the first university in Australia to set up actuarial courses, and developed quickly in recent years, having excellent performance in Business, Economics and Accounting.
Translated by Xu Mengdi
Proofread by Dominic Graham
( From Office of International Exchange and Cooperation)