On June 21st, the 2016 SUFE Commencement Ceremony was held in the Lecture Hall of the Innovation Center at the Wuchuan Campus. The ceremony was comprised of two venues: the Fourth Teaching Building and the Badminton Hall which were both broadcasted live from the begin to end. SUFE leaders Fan Liming, Liu Yongzhang, Liu Lanjuan, Fang Hua, Jiang Chuanhai, Chen Xinyuan, Yao Lingzhen, Zhu Mingxiong, Zheng Shaohua, and other department leaders attended the graduation ceremony. Vice President Liu Lanjuan and Yao Lingzhen hosted the proceedings.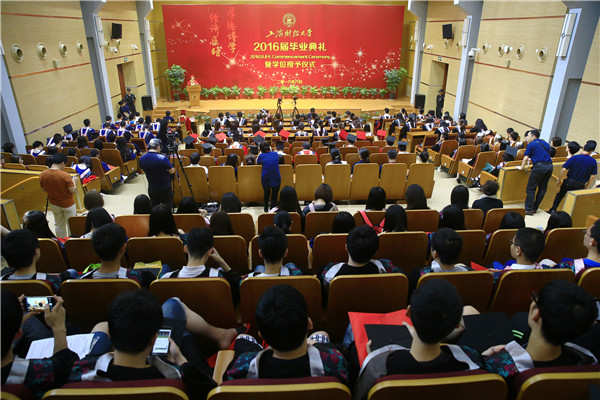 During the graduation ceremony, President Fan congratulated graduates on successfully completing their studies. In her speech, shared her views on how graduates should treat and pursue their dreams:
First, I hope the students dare to aim high, but are willing to do the little things; to see things not from the short term perspective but from the long-term. I hope you all strive forward responsibly, and you all perform wonderfully in your next stage of life. Second, the key to realizing your dream is decisive action. I hope you will become giants with your thoughts, to be the strong person who can take action, and walk step by step toward their dream. Third, I hope all the students have a strong heart, and are able to persevere through all of life's difficulties, to learn something from failure, and to open up a new realm of life.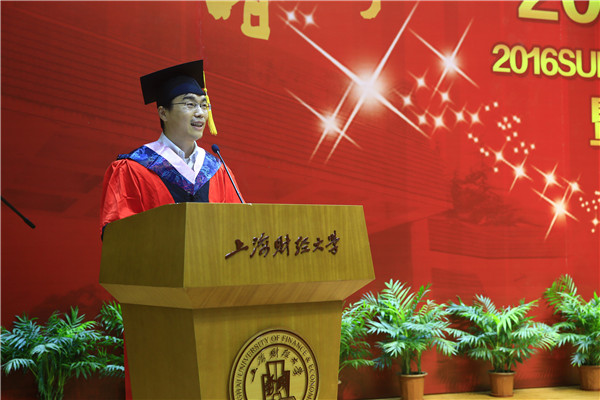 Speaking on behalf of all the teachers, Wei Hang from the School of International Business Administration lectured on four key points: First, Gratitude, and that students should be grateful to their teachers, and learn to learn from others and learn by themselves in the future. Second, Time, stating that he hopes SUFE students can grasp the opportunities that time presents them, and gain success through effort and dedication. Third he spoke about Responsibility, encouraging students to have the courage to take on social responsibility. Lastly he urged students to stay true to their original mission and never lose sight of it, and to spend every day happily and fully.

Zhu Yingying, an undergraduate from the School of Public Economics and Management, and Wu Wensheng a doctoral student from the School of Finance, gave speeches on behalf of the students. They recalled their college life among the other graduates, expressed gratitude and love for SUFE, and sent their best wishes to students and teachers. They also promised on behalf of all graduates that despite whatever prosperity they achieve or adversity they face, they will be adhere to SUFE's motto:
To strive for virtue and knowledge, depart to serve the country and to carry their dreams and look forward. To be brave, willing, and dare to assume national, ethnic, social, and familial responsibilities, and to strive to become the backbone of the country and society; the glory of SUFE.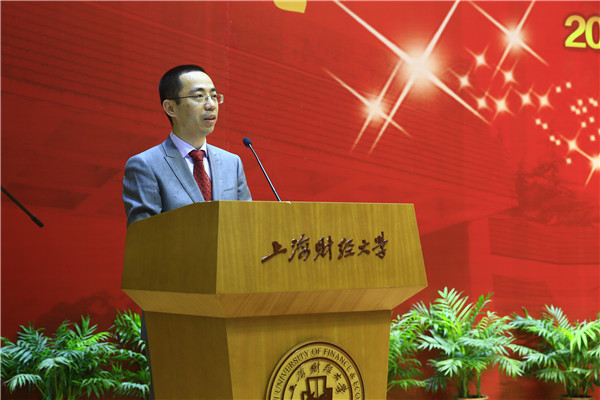 On behalf of the Alumni, Deputy Director of the Accounting Department at the China Insurance Regulatory Commission Zhao Yulong, also gave a speech during the ceremony. He recalled his experience at SUFE and shared the true meaning of a career choice, ...doing what you like and what is meaningful. He illustrated his own views on money, success, and happiness. He hoped that the graduates take good care of their passion and ideals, and encouraged them to stick to their own beliefs during this skeptical age.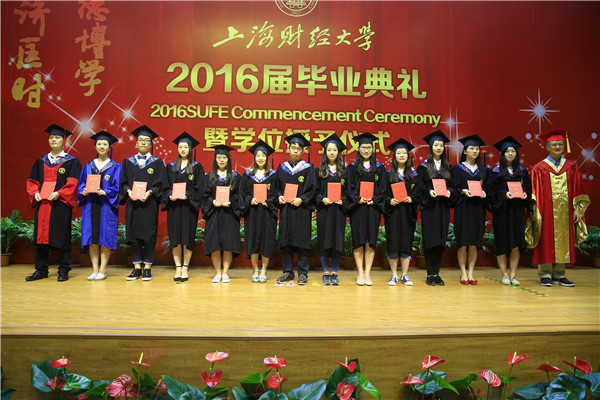 Later during the ceremony Vice Chairperson of SUFE Liu Yongzhang commended all of the Outstanding Graduates, congratulating all of them individually and awarding them their honorary certificates.
President Fan Liming then awarded certificates for all 3504 graduates at the lecture hall; affectionately taking pictures with each and every one of them while the deans from different schools read out their names. The ceremony ended in joyful and warm atmosphere.
Translated by: Li Ruhui
Edited by: John Jackson Zhang Boxin
Source : SUFE News