On November 10th, SUFE Centennial Celebration Volunteer Oath-taking Ceremony was held at the Arts Center, Guoding Road Campus. Zhu Mingxiong, Vice Chairperson of the University Council, directors of the schools, Institutes the administrative departments attended the ceremony. All volunteers dressed in their uniforms. Energetic and vigorous, the volunteers expressed their commitment to volunteer service work of the Centennial Celebration Day. The ceremony was presided over by He Weiwei, Deputy Secretary of SUFE Youth League Committee .
In the opening video, Little Red Bean, the mascot of the volunteer introduced volunteer recruitment, training, positions assignment, uniform design with concise and lively language. The volunteers also became closer, because of the nickname Little Red Bean .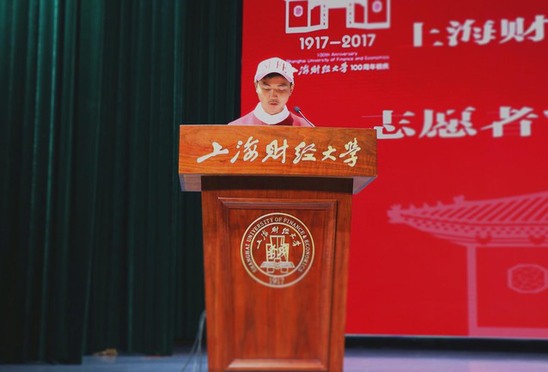 On behalf of all volunteers, Gu Zhixiang shared his view on volunteer work. From his perspective, to do a voluntary work, you must have enthusiasm and responsibility. Voluntary work means dedication and gains, caring for others, caring for SUFE, but also enjoy the satisfaction of being loved. He believed that diligence and persistence are the essential qualities of voluntary work.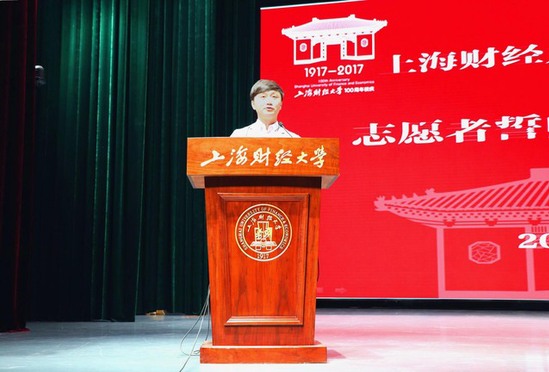 Ma Ji, Office Director of SUFE Department of Cooperation and Development, on behalf of the teachers, addressed in the ceremony. He said he was very honored to participate in the preparatory work of the Centennial Celebration. He extended gratitude to all the volunteers for their work, but also pointed out that sense of organization, discipline and responsibility is particularly important to all the volunteers.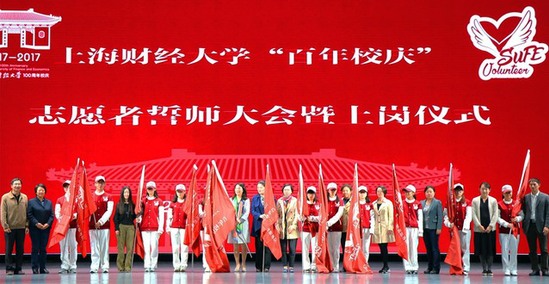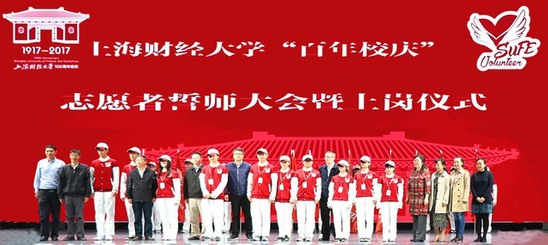 Subsequently, leaders of schools and institutes presented flags to the volunteer representatives of school level and directors of administrative departments issued a work permit and volunteer badges for the volunteer representatives of university level.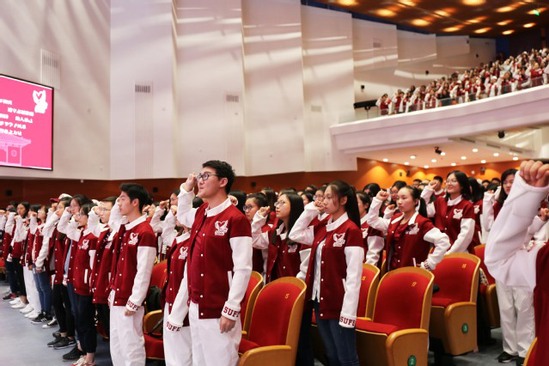 In the oath-taking part, all volunteers raised their right fists and took oath in a impassioned sonorous voice to show their dedication, will and determination.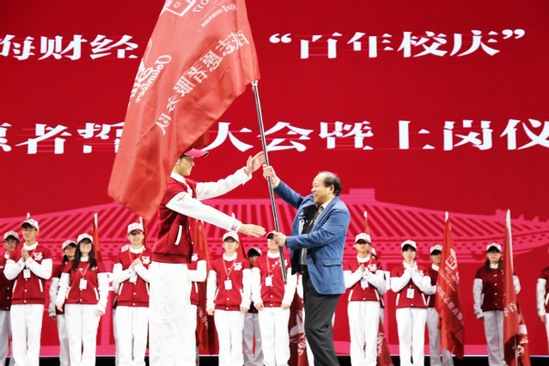 After the oath-taking, Zhang Kaifan the representative of volunteers took the Centennial Anniversary Volunteer Flag from Mr. Zhu Mingxiong, and Zhu announced that the volunteers now took their posts.
( From SUFE Youth League Committee)