On the morning of October 11th, Vice President Yao Lingzhen met with Dr. Naoyuki Yoshino, Dean of the Asian Development Bank Institute (ADBI), and the two sides held in-depth exchanges .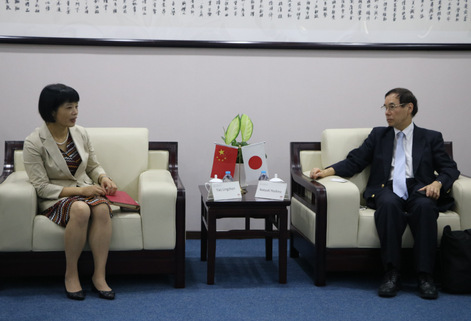 Yao extended warm welcome to Dr. Yoshino. She introduces the development of SUFE, and reviews the cooperation between ADBI and SUFE in talent training and student internship and other fields. Subsequently, the two sides exchanged ideas regarding development vision in teaching, scientific research, personnel training and internationalization, and conducted in-depth discussions in scientific research cooperation, experts exchanges and overseas practice opportunities for students from SUFE Talent Development Base for International Organizations and other issues.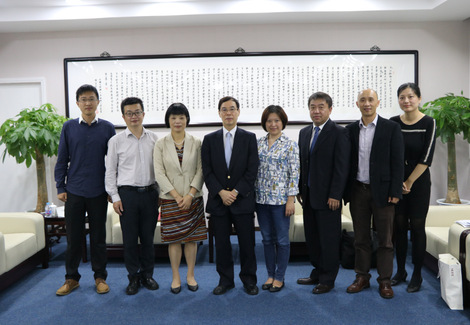 Li Hong, Director of Office of International Cooperation and Exchanges,Chen Xuanjuan,Vice Dean of School of finance , Zheng Chunrong, Deputy Director of the Office of Scientific Research , Li Jinsong, Vice Dean of the Graduate School, Ding Haoyuan, Dean Assistant of School of International Business Administration, Yan Huan,Director of International Talent Training Project ,Graduate School also attended the meeting.
After the meeting, Dr Yoshino delivered a lecture entitled China's Exchange Rate and its Impact on the Asian Economy for students of the Talent Development Base for International Organizations . Li Hong, Director of Office of International Cooperation and Exchanges ,presided over the report.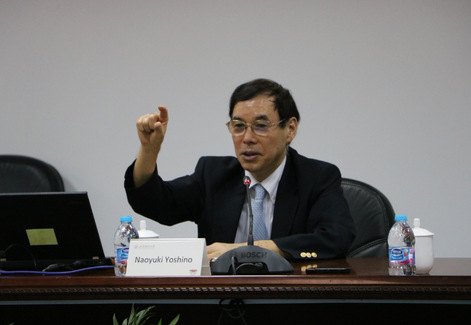 Combined with his own research results, Dr. Yoshino expounded two topics respectively. First of all, he listed a number of developing countries and developed countries as examples, and discussed the importance of infrastructure such as railway, highway and investment to the sustainability of education,the small and medium-sized enterprises, and to theregional and national development asa whole. Then, through the analysis of model of China, Malaysia and Singapore, Dr Yoshino draw the dynamic optimal path in the process of exchange rate system transformation, then he used the model evaluate the different exchange rate systems, he believed that in China, the free floating exchange rate system is not optimal, there is its particularity, and also emphasized the influence that China's exchange rate fluctuations would have on Singapore, Malaysia and even Asia. After the lecture, Dr. Yoshino conducted cordial interaction and exchange with the students, and answered the questions raised by the students.
The Asian Development Bank, founded in 1966, is a regional intergovernmental financial development institution to promote the economic and social development of the members of Asia and the Pacific region. The Asian Development Bank Research Institute (ADBI), established in 1997, is subordinate to ADB, and is responsible for providing intellectual support to policy makers in developing member of ADB. ADBI mainly engaged in research with a focus on medium- to long-term development issues of strategic importance that affects the region and through capacity building and training (CBT) activities that contribute to ADB's overarching objective of poverty reduction. The office is located in Tokyo, Japan. It has three departments: Research, Capacity Building and Training, Administration , Management and Coordination.