The marathon, which was undertaken 'with the joint efforts of ten cities to celebrate the 100th Anniversary of SUFE', was most frequently describedby alumni with the expressions, grateful","moving", and"warm. With spring approaching, SUFE alumni exuded the feeling of excitement and warmth.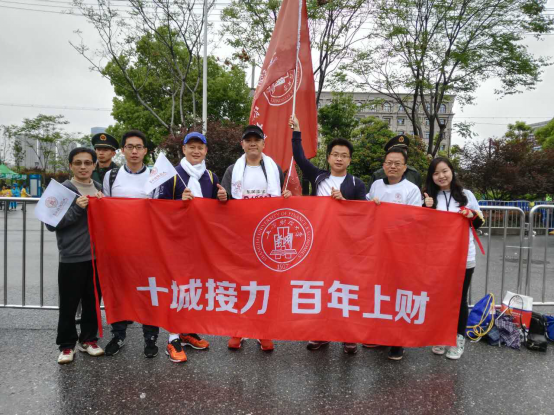 On April 8, 2017,alumni from over 10 cities gathered in Wuhan for the marathon. Wuhan was the third city to hold the marathon, following Xiamen and Wuxi. From Xiamen to Wuxi, from Wuxi to Wuhan, some familiar participants appeared on the field.
Lin Wandong,who participated in the Xiamen and Wuxi marathons stated that "marathons have become a part of my life, especially after this activity. The point of marathons is connecting alumni and shortening the distance between alumni and SUFE. Though this activity,we pay more attention to the development of SUFE."
On the morning of April 9, the expected rain exerted more pressure on the athletes. "On running, everyone was exhilarated and excited in spite of the heavy rain," said a participant in the activity –analumni of the School of International Business and Administration (SIBA) from one of the 10 cities running the marathon to celebrate SUFE's 100th anniversary.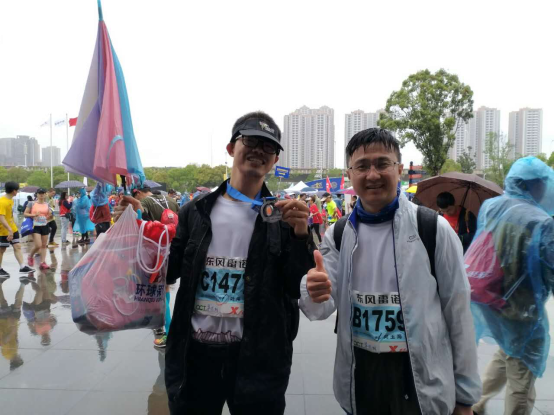 The heavy rain continued throughout the entire marathon, but the SUFE alumni treated it positively. The cheerleading members inspired the athletes to finish the 42-kilometer race. After the marathon, the director of Hubei Alumni Chapter, Huang Guoqing, said "whether fast or slow, all the thirteen members reached the finish. Your strong will represents the inspiration of Shufe, and Shufe will be proud of you."
It is Huang Guoqing that organized the activity in Wuhan. Hospitable members of Wuhan alumni created an impressive memory in the minds of the participants through their thoughtful work. What Huang said at the end of the activity must be what everyone else thought of the event. On his WeChataccount he put it:"With the biggest rain of 2017 pouring, to celebrate the 100th Anniversary of SUFE, both the alumni and the athletes spared no pains to make the activity an excellent one.On the windy field, we proved ourselves qualified SUFE members. Runner or cheering members,we tried our best. The rain may halt or stop, we never do. Cheer for the alumni! They are SUFE members!"
Vice secretary of SUFE Alumni Union, Zhang Yanbo commented that, the activity diffused SUFE and connected Shufe with alumni. The marathon was a successful event.
It is the blessing from the alumni that improved the event. Alumni, He Yuhai stated:"It was really meaningful to have a marathon with the theme of 100th birthday. Hopefully, this activity fared well and there will be more activities like this."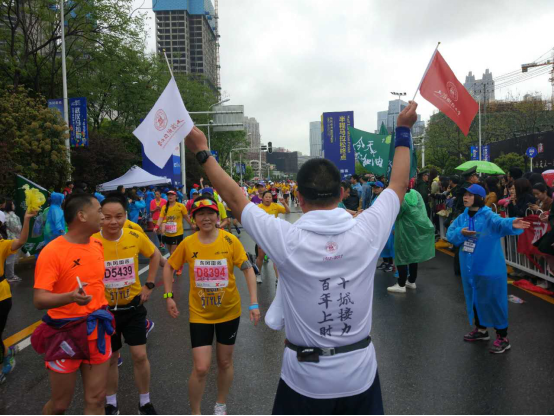 The activity "alumni from 10 cities having a marathon",was sponsored by SUFE Alumni Union, SIBA., along with SIBA Alumni Union. The relay of host cities is Xiamen, Wuxi, Wuhan, Yangzhou, Dalian, Lanzhou, Guiyang, Hefei, Beijing,and Shanghai. "100-year-old business education, 100-year-old SUFE."
Translated by He Guannan
Edited by David Switzer Zhang Boxin
Source :SUFE News